Friday, 20 Mar, 2020 02:01 PM
On the footprints of the States Skill Development Policy notified in July, 2013, the UP Skill Development Mission is established as a Society registered under the Societies Registration act, 1860 under the aegis of the Department of Vocational Education and Skill Development Govt. of UP. It came into existence on 13th Sept. 2013
The UP Skill Development Mission is mandated to implement and monitor all the Skill training programmes holistically on an integrated and standardized platform irrespective of which ministry on department they are funded by, much before the Govt. of India acted upon and notified elaborate guidelines captioned as "Common Cost Norms" in the year 2015. The State Govt has also adopted these Common Cost Norms for all the State sponsored schemes also from 1st March 2016.
Following are the schemes which the UPSDM is implementing and monitoring at present.
1- PMKVY (State Component)
2- DDU- GKY
3-SCA to SCSP
4- MSDP
5-BADP
6-SSDF
7-BoCW.
The UPSDM has six functional divisional administer its routine business besides a few verticals to monitor the implementation of the flagship programmes. The entire gamut of Mission's activities are managed by following divisions-
1-Planning Division
2- Finance Division
3-Training partners and Placement Division
4- Assessment and certification Division
5- Social Mobilization Division
6- IT & monitoring Division.
The key policy decisions relating to Mission are taken by the State Steering Committee of the Mission which is chaired by the Chief Secretary of Govt. of UP.
The State Executive Committee of the Mission headed by the Principal Secretary/Secretary, Vocational Education and Skill Development Govt. of UP is accountable for issuing regular policy directives for improving the performance of the mission.
The Mission Director holds the reins of organization and exercises all the administrative and financial powers that facilitate regular commissioning of its activities.
The Mission Director is assisted by a team of professionals profusely experienced in their respective fields besides administrative officers and financial advisors. The other stratum in the organizational hierarchy is the ministerial staff that contributes to its mite to achieve the objectives of the Mission and maintain its vitality.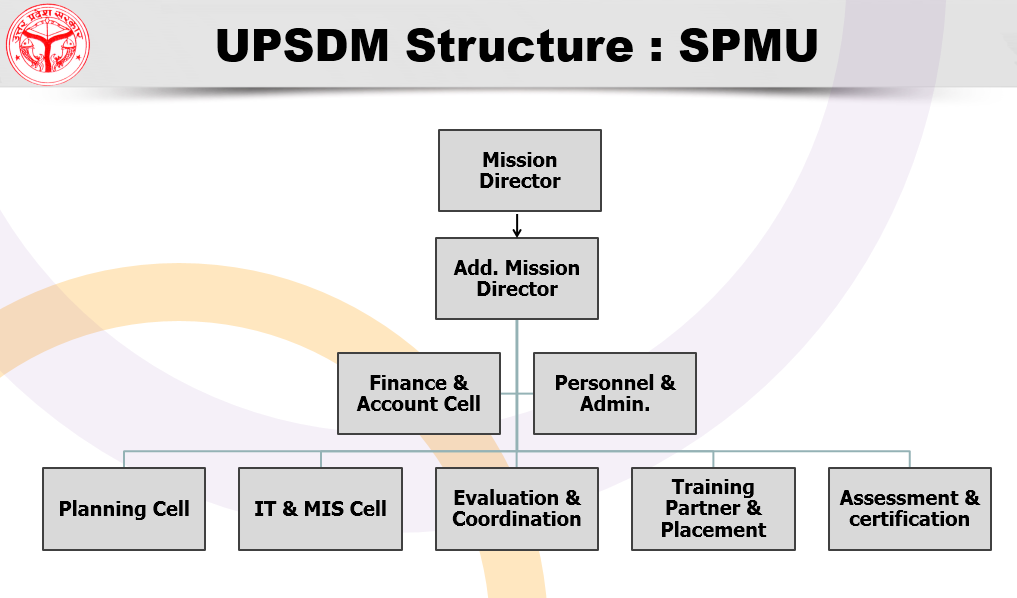 © 2020 U.P. Skill Development Mission | All rights reserved