Friday, 20 Mar, 2020 02:01 PM
DPMUs or District Project Management Units are the extended arms of the State Programme Management Unit (SPMU) at the headquarters of the UP Skill Development Mission aligned with its modus operandi of reaching out to the execution level. Each district has a DPMU and each DPMU is headed by the District Magistrate and the Principal of nodal ITI of the district is designated as the ex officio District Coordinator of the Unit. The District Coordinator is accountable for routine functioning of the office.
Down to him, there are 1-2 Counsellor Cum MIS Managers who are supposed to visit the training centres regularly and ensure the quality of training programmes, beside submitting progress reports to the SPMU. These Counsellor Cum MIS Manager are virtually the key delivery points and programme facilitators. They also recommend opening of a training centre or shifting location of a centre. With a professional background of computer applications/Management, they also coordinate in organisation of Job fairs and launch of mobilization campaigns.
SPMU and DPMU together constitute an organically linked convergence model where all the units are integrally coordinated to strive towards achieving common objectives and reach a common destination- the destination to develop a conducive eco system where skilled youth get a premium in jobs and skill education becomes an aspirational preference.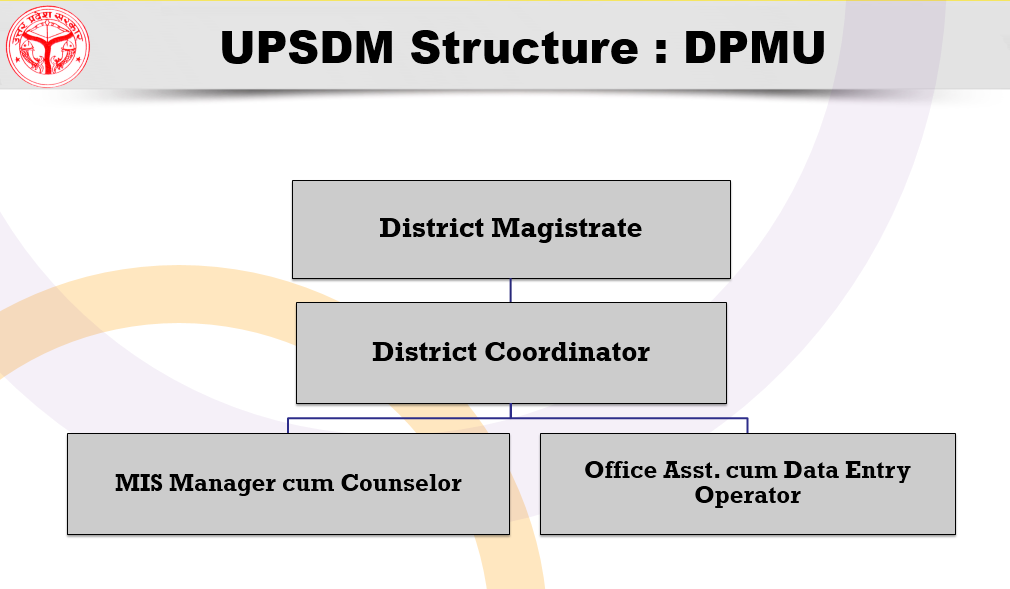 © 2020 U.P. Skill Development Mission | All rights reserved